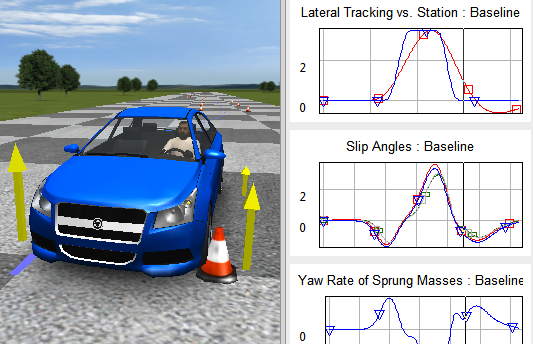 VehicleSim products include three major types of programs:
A custom VS Browser provides the graphical user interface (GUI).
Custom VS Solvers calculate the response of the vehicle math models in simulated tests.
VS Visualizer shows simulation results using animation and plotting.
This page describes VS Visualizer.
Viewing Simulation Results
Simulation results from BikeSim, CarSim, SuspensionSim, and TruckSim are viewed with VS Visualizer.
Introduced in 2011 for our driving simulators, VS Visualizer is now standard in all four products. Starting with Version 9 (October 2014), VS Visualizer provides both animation and plotting of simulation results.
VS Visualizer uses the latest technology to provide high performance, with modern features such as mirrors, lighting, true shadows, variable levels of detail, and many more features supported in modern gaming systems.
Easy to Use
To fit in with the rest of the software, VS Visualizer is so easy to use that training is not required. View an animation with one button click, and interact with simple sweeping mouse movements.
Use a single button click to view any existing run in the database. The buttons are: Video, Plot, and Video + Plot.
Change camera position and zoom in and out with the simulated camera using simple mouse sweeping motions.
Control camera settings with a graphical interface in the database the same as used for all other parts of the simulated vehicle and testing.
Assemble parts in the animation using the same graphical interface as used to assemble parts of the vehicle and control models.
Each VS product comes with a catalog of 3D vehicle shapes that are used in the examples. They are automatically resized to match the dimensions of the vehicle model, and can be given new colors to help identify vehicles when runs are overlaid in animations. Here are the catalogs of shapes for BikeSim, CarSim, and TruckSim.
Video
VS Visualizer was built to make use of technology originally developed for movie animations and high-level video games.
All surfaces are shaded and rendered using the OpenGL library that is standard in Windows and other modern operating systems.
Most video/graphics cards support OpenGL in hardware. VS Visualizer automatically checks the capability of the card to give the best performance possible for both high- and low-end graphics hardware.
Shapes can be translucent or opaque, and can have photographic images and textures "wrapped" around them.
VS Visualizer supports many open-standard formats for 3D shapes, including the open standard OSG (Open Scene Graph) along with older standards such as OBJ.
VS Visualizer includes heads up display (HUD) for 2D graphic controls (speedometer, ESC indicator, etc.) and text (any variable in the output file or formula based on variables in the file, e.g., accelerations, forces, controls, etc.).
VS Visualizer can show multiple camera views, internal or external relative to the vehicle.
Plotting
Here are the main automated plotting capabilities:
Predefined plots from the database are activated with a single button click. Plots synchronized with video are also activated with a single button click.
Cursor movements are synchronized for all visible plots. If a video animation is visible, it is also synchronized.
Digital displays of all plotted variables can be shown simultaneously as the cursor is moved through the plot area.
A grid interface shows thumbnail views of all plots; double click to view one in detail.
New plot variables can be defined with formulas.
The plot screens support interactive zooming and panning, similar to the video camera controls.
The option to find the maximum or minimum value of a plotted variable also moves the indicated time for all synched plots and video.
Extended Features for Showing Vehicle Dynamics
VS Visualizer has extra features for showing vehicle dynamic behavior.
Playback speed can be controlled continuously from high speed, to normal (real time), to extremely slow motion, to pause. VS Visualizer also supports forward and reverse. This allows the careful study of complicated motions.
Instant access to any part of the animation is provided with a slide bar, similar to the slide bar in a multimedia player.
All motion is smoothed by spline interpolation, to avoid jerky display even with extreme slow motion.
Results from different runs can be overlaid (a single button in the VS Browser enables this mode) to visually compare results for different vehicles or conditions.
Multiple images of the vehicle (called "ghosts") of past vehicle positions help visualize complicated motions.
Shapes can be sized based on variables from the vehicle model. This feature is used to show arrows indicating tire forces.
Shapes can be made visible or invisible based on variables from the vehicle model. For example, this is used to show brake lights.
Shape transparency can be adjusted based on variables from the vehicle model. This feature is used to show tire skid marks.
VS Visualizer also works in real-time, obtaining motion variables "live" from a running model. This mode is used to show the simulated vehicle when testing hardware-in-the-loop, or when using a driving simulator.
Multiple animations can run in real-time on different computers to support multiple-screen displays for driving simulators.